Click System.  Made by Skacel in Germany, Merribee carries a large variety of the most popular sized of addi Turbo knitting needles.  Below is an image of the "addi Click Basic" interchangeable knitting system.  This Click system yields more than five hundred combinations with 10 different sizes of addi Turbo tips, three different lengths of blue pliable blue cord, and one connector piece which helps to either store stitches or combine your cords.  The Click tips require no tools to change.  Simply insert the cord deep into the tip, twist and release.  Your tips will remain secure until you change them!  The Click system comes in its own carrying case.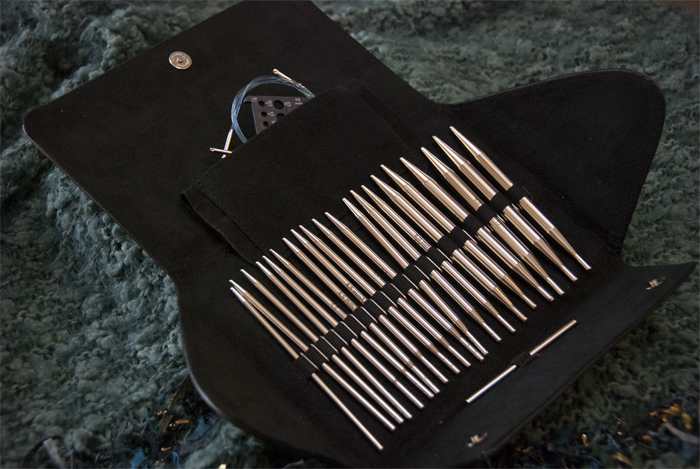 Circular Needles.  Merribee also carries a full array of individual addi Turbo circular needles. Traditional addi Turbo circular needles are great for knitters of all skill levels. Made of nickel plated brass with soft, pliable cables connected via snag-free joints, these wonderful needles increase your knitting speed.  The traditional addi Turbo circular needle is fast with a natural touch. It's soft cord allows for a smooth transfer to reduce snagging.  Each pair has its metric size stamped on the needle for organization.
Order.  To order any product on the Merribee Needlearts website, simply call 281 440 4980 during normal business hours.  That way we can give your inquiry the personal attention you deserve.